This guide will teach you how to breed horses in Minecraft. It is a simple process that can be done quickly and easily, but it does require some patience.
In Minecraft, players can breed horses. This is a process that involves the player breeding two horses of different colors to create a horse with a new color. The horse will have the color of one parent and half of its genes from the other parent.
Horses are important animals in Minecraft, particularly in the mid-game when you need to go around quickly without losing a lot of health or hunger points. To ride a horse in Minecraft, you must first tame it. You may also breed them for other reasons, like as leather production or farming. But how can you tame and raise horses in Minecraft?
Horses may be bred by giving them golden carrots until they fall in love with each other. To produce horses, you must first tame them by mounting them. Right-click to get on them until the horse stops tossing you off and the heart appears on its back.
When you attempt to tame the horse by jumping on it at first, it becomes enraged and forces you to fall off its back. The horse loses its temper as a result, and every time you attempt to ride it, the temper points rise by 5 points. However, if you stick it out long enough, the temper will eventually give in.
It's possible that a player will have to ride a horse 20 times before gaining its confidence and taming it. Horses are calm and docile creatures in Minecraft. You'll need another horse to breed once you've successfully tamed one. To tame another horse, repeat the process.
It is very simple to breed a horse. Feed a Golden carrot or Golden apple to each of the two horses, and they will fall in love and have a foal.
You may utilize a variety of foods to speed up the taming and breeding process. Keep reading to learn more about how to breed horses, tame them, and how to do it correctly.
What Is The Best Way To Breed Horses In Minecraft?
Horse breeding is accomplished by feeding two horses Golden Apple or Golden Carrot. The Golden Apple or Golden Carrot meal causes both horses to fall in love, culminating in breeding and the birth of a foal. When you breed these horses, the children they produce inherit the parent horses' features and attributes.
The speed, height, leap, and color of the offspring are all determined by the parent horses. The average of both parents is typically used. If you cross two horses with speeds of 80 and 100, the foal will have a speed of 90.
To breed horses in Minecraft, just follow these simple steps:
Within the plain biome, look for two horses.
Both of the horses must be tamed. Two wild horses cannot be bred. (Will you read the whole article to find out how to tame the horses?)
Bring them both inside a fence to ensure that they remain together for breeding.
Use the food items to entice them into a love mood.
Horses may be coerced into breeding by feeding them three different foods.
You may utilize the golden apple, golden apple enchantment, or golden carrot as needed. Each of the horses must be given one of these three food items at a time.
Red hearts will appear above the horses' heads when you give them the food item. These horses are in full-fledged love mode right now.
As soon as you feed both horses, red hearts will appear above their heads. After the red hearts have vanished, a lovely baby horse will emerge.
Can You Breed Horses With Golden Carrots In Minecraft?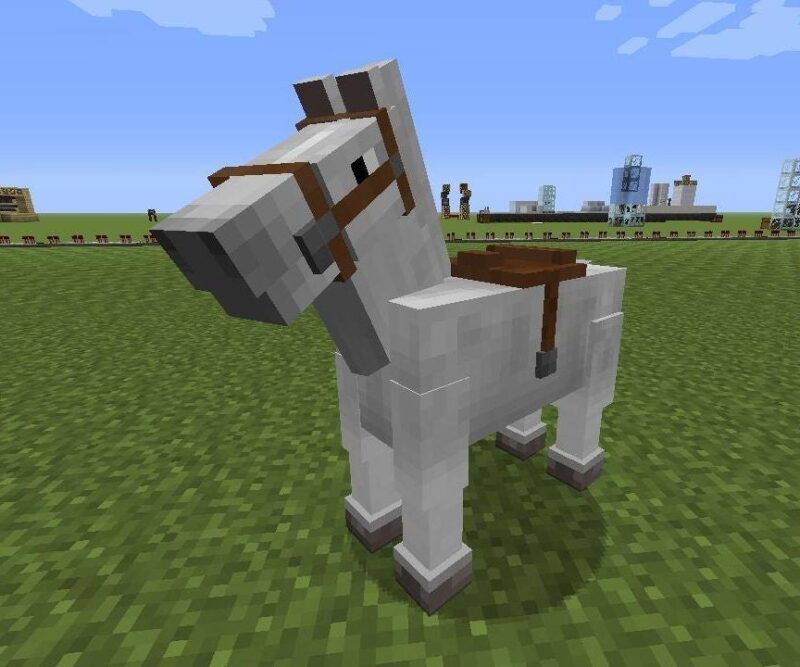 Horses are given golden carrots to help them reproduce. Golden carrot is the best horse to breed if you have two horses. To make the horses fall in love, just give one golden carrot to each of them.
The Golden carrot is the most popular food item for horses in Minecraft. In the game, it's their favorite item to eat.
You can make golden carrots by surrounding a single carrot with eight gold nuggets. Alternatively, a villager with master-level farming may sell you the item for three emeralds.
Is it possible to breed horses using hay bales?
Horses may be bred using hay bales. However, it is preferable to breed them with Golden carrots or Golden apples since it is more practical.
Hay bales are combustible ornamental pieces that may be used to both breed and feed horses. They are found in plain villages and, on rare occasions, in savanna and desert communities.
The hay bales serve as a wheat replacement, and 64 hay bales provide the same amount of energy as 192 loaves of bread.
Hay bales may not only be used to feed or breed horses, but they can also be used to cure them. They are an efficient means of healing horses. In a shorter period of time. They have the ability to repair up to ten hearts.
Additionally, a newborn horse's development may be accelerated by feeding it hay bales. The rate of growth is sped up by three minutes.
As a result, hay bales are a helpful material for caring for horses. They aid in the prevention of inbreeding as well as the feeding and mending of the horses.
Is it possible to produce horses that are faster in Minecraft?
Only faster parent horses may produce faster offspring. The newborn horse's characteristics are influenced by the parent horses.
The characteristics of both parents are present in a newborn horse. If the parent horse's speed is between 60 and 80, the young horse's speed will be around 70.
There is no way to enhance the physical attribute of the horse in the game until you do this.
In Minecraft, how can you breed the perfect horse?
In Minecraft, there is only one way to breed the ideal horse: get the perfect parent horses and make them fall in love with one other. Horses in Minecraft have seven distinct hues and five different marking patterns on their bodies. Every horse is distinct in terms of speed and leaping ability.
Horses have varied health levels as well. This may make a significant difference in close combat or lengthy journeys across the globe. Before breeding a horse, take it for a ride and assess its health and physical characteristics.
So, in order to produce the ideal horse, keep an eye out for all of these characteristics in the two parent horses. Once you're certain you've acquired the finest horses, feed them to get them in the mood.
You'll obtain the horse with ideal parameters once they reach their love mood.
Now that you've learned all there is to know about breeding the perfect horse, it's time to put it all together. Let's figure out how to control them. Because you can't breed horses without first taming them.
In Minecraft, how can you tame horses?
Horses can be tamed if the player is persistent enough. taming a horse In Minecraft, the player must continually hop on the horse's back until the horse's temper point hits its maximum and he agrees to join you on your journey.
Because of their nature, horses first resist any attempts to approach them. A player must attempt to persuade the horse to become his domesticated animal over and over again.
To tame a wild horse, approach it and right-click on its back. The horse will kick you off its back at first, but keep trying until the animal's heart seems to exit its body. This is a sign of you gaining his trust and winning his heart.
In Minecraft, what do you use to tame a horse?
There are no special tools required to tame a horse. Horses may be tamed simply by attempting to jump on their backs until they yield and you gain their trust.
If you can't ride them after several attempts, you may try feeding them.
Feeding the horse a unit of food improves your chances of taming them by a percentage.
To feed the horse before taming it, hold the food in your hand and right-click to feed them. This will decrease your food supply while increasing your chances of taming the very valuable creature.
You may now give a horse a variety of foods in order to persuade them to become your pet.
In Minecraft, what food do you need to tame a horse?
Sugar, apple, wheat, golden carrot, and golden apple are all useful for taming a horse in Minecraft. Every culinary item has its own level of excellence. Some will be more effective in taming the horse, while others may take longer.
With each unit, food products like sugar, apple, and wheat enhance their probability by 3%. Items like golden carrot and golden apple, on the other hand, enhance the probability of taming by 5% and 10%, respectively, with each unit.
The golden apple and golden carrot are better for breeding. Also, since these goods are rarer and more difficult to get, they are often used only for breeding reasons.
Despite this, the horse is a valuable animal that saves players a lot of time and energy due to its high speed and strength. If you have no other choice and a horse with great physical qualities, you may consider giving up your golden things in order to tame it.
Why are my horses in Minecraft refusing to breed?
If you've recently tamed a horse, you'll need to wait a few minutes.
You may select between golden apples or golden carrots by right-clicking two domesticated ponies. As long as they haven't been bred in the previous 5 minutes, this should work.
There is a limit to how many children you can have. Assume you own a farm where you raise sheep, chickens, cows, or pigs. Some of the animals you bred must be killed in order to produce horses. As a novice Minecraft player, I committed this error and squandered many golden carrots.
There are a few factors to consider, such as whether or not both horses are completely matured. You should also keep a safe distance since, unlike other animals, they do not reproduce when you approach them. It also takes approximately a minute to breed.
Is it possible to breed skeleton horses?
Skeleton horses can't be bred or nourished since they're undead, thus they're difficult to produce despite the Updates.
Skeletons and zombies are the only horses that cannot reproduce.
A skeleton horse is a very practical method of travel. They are regarded as the quickest method of travel. Skeletons are used for water riding, hill climbing, and fence jumping.
They may be tamed and trained for riding, climbing, and leaping. They cannot, however, be bred. Only normal horses can be bred in Minecraft.
In Minecraft, why can't I tame a horse?
Taming a horse may be a difficult job at times. Some horses just refuse to be tamed and continue to resist your attempts to tame them. If you're having trouble with this, there are a few things you may try.
Try leaving the horse alone for about five minutes before trying again. If you've been trying for an extended period of time, take a break. Come down off the animal's back and attempt to mount it once again. Even if you can't tame it after that, let it go and try on another horse.
Second, attempt to provide some food for the horses. If you're looking to impress someone, this is the place to be. Giving it food is a simple method to persuade it to become your pet animal. Food boosts the chances of taming these animals.
Check to see whether the horse is completely grown. A newborn or adolescent horse cannot be tamed. As a result, it is essential to maintain its maturity. It is only possible to tame a fully matured horse.
It is fairly uncommon for the horse to be tamed but the heart to remain hidden. Open your inventory in this instance. If you are able to access the inventory, the horse has been tamed. Because an untamed horse cannot be used to access the horse inventory.
If you've been unable to tame a horse, here are a few options to consider. If nothing else works, resurrect these horses and try again; otherwise, leave them and try again in a different environment.
In Minecraft, can you breed domesticated horses?
Horses that have been tamed may be bred. Not only that, but horses must first be domesticated before they can reproduce.
Is it possible to cross a donkey and a horse in Minecraft?
Mules are created when horses and donkeys are bred in the same manner as horses and other animals are produced. The mules are not able to reproduce, but they are essentially a better form of the donkey.
Horses are one of the most popular creatures in Minecraft. They can be tamed and bred, but there are some important steps that need to be followed to do this. Reference: how to breed horses in minecraft ps4.
Frequently Asked Questions
How do you make a tamed horse mate in Minecraft?
You will need to breed two horses together.
How do u breed horses on Minecraft?
Breed horses in Minecraft is not currently possible.
What is the fastest way to tame a horse in Minecraft?
Using a saddle, you can tame horses in Minecraft.